Every year, the Keukenhof Tulip Festival attracts millions of tourists from around the world to witness the mesmerizing endless fields of blooming tulips. Often referred to as the Garden of Europe, Keukenhof is conveniently located just 35 km away from the vibrant city of Amsterdam.
Immerse yourself in the breathtaking beauty of tens of thousands of tulips, daffodils, and hyacinths in full bloom. The spring gardens host inspiring floral shows and showcase a plethora of magnificent art pieces. Mark your calendars for the 2024 Keukenhof Tulip Festival, taking place from March 21st to May 12th.
The most anticipated event of the festival is the Flower Parade, also known as Bloemencorso Bollenstreek, scheduled for April 20th, 2024. Don't miss this vibrant and colorful spectacle!
Want to make your visit even more memorable? Reserve your VIP access tickets to the Flower Parade, complete with transportation and meals included, through Tiqets. Find all the details and book your spot now!
Keukenhof Tulip Festival 2024 Schedule
Date: March 21st – May 12th, 2024
Theme: To be announced
Location: Stationsweg No. 166, 2161 AM Lisse
Daily Hours: 8:00 AM – 7:30 PM
Online Ticket Prices: €19.5 for adults, €9 for children aged 4-17, €6 for parking.
Secure your online access ticket to Keukenhof Gardens with Tiqets for only €19! Check out the details here or click on the banner.
Transfer from Schipol Airport
Planning your journey to Keukenhof? Travel with ease from Amsterdam Schipol Airport to the city center on Flibco coaches. Tickets cost just €11.75, and the transfer takes only 27 minutes. Reserve your seat now on the Flibco banner or click >> HERE!
Transfer from Eindhoven Airport
Terravision provides a transfer from Eindhoven Airport to Amsterdam city center. A one-way ticket costs 25 euros and the transfer takes about 1 hour and 40 minutes.
Book your trip ticket using the link or banner below and enjoy your stay in Amsterdam!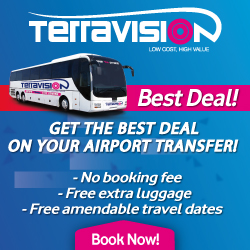 How to Admire the Tulip Fields?
Bike Tour: Enjoy a 2.5-hour bike tour that includes access tickets and bicycle rental. Price: €51. See more >> here.
Boat Tour: Embark on a 1.5-hour canal cruise from Amsterdam to Keukenhof, with entrance tickets included. Price: €53. Find out more here.
Helicopter Flight: For an unforgettable experience, take a helicopter flight over the perfectly aligned fields, mesmerizing patterns, and vibrant colors! Departure from the Lisse area, and each flight can accommodate up to 4 people.
Limited dates available: March 30th, April 6th, April 13th, April 19th-21st, and April 26th, 2024.
Price: €159/person. Reserve your spot and find more details >> here.
Only need transportation and festival admission? Check out the details and book your tickets here.
For a successful vacation, book accommodation with free cancellation on Booking in Amsterdam!
Join us at the Keukenhof Tulip Festival and immerse yourself in the breathtaking beauty of the blooming fields! Don't miss this chance to witness the enchanting spectacle of nature's artistry.
Need a car? Find the best deals with the Rentalcars search engine!
Trip instinct team